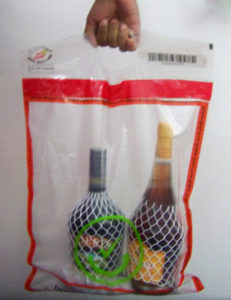 A part of the joy of international travel is duty free shopping. However, in today's uncertain times, safety and security concerns have forced the International Civil Aviation Organization (ICAO) to lay down some stringent guidelines about these purchases and their packaging. International travelers may purchase duty-free liquids, aerosols and gels beyond the security checkpoint and bring them in their carry-on baggage, but often the delivery will be in Duty-free Secure Tamper Evident Bags (STEBs) or called as Duty free stebs, at the boarding gate. Enhance your customers' shopping experience; use our Duty free STEBs.
A combination of high- quality polythene polymers makes our Duty free STEBs sturdy and tear resistant. The very strong tamper evident seal will display the word, 'VOID' if somebody tries to open the bag.
In addition to being heavy duty and tear resistant, our Duty free STEBs are fitted with strong handles to withstand significant weight. Customization and personalization to incorporate all branding and advertising needs, is another plus when using our Duty-free STEBs. A sequential number and bar coding system extends an additional layer of security to our Duty free STEBs.